Columns and Capitals
Columns and Capitals, combined with the entablature, are the basis of the classical Orders. Architectural periods have provided many variations on these designs, but the principles of the orders remain intact.
A column is a vertical shaft most often seen in a row supporting a lintel (a colonnade) or with a series of arches (an arcade). However, single (Commemorative) columns may be used on their own in certain circumstances, for example, to support a statue, such as Nelson's Column in London.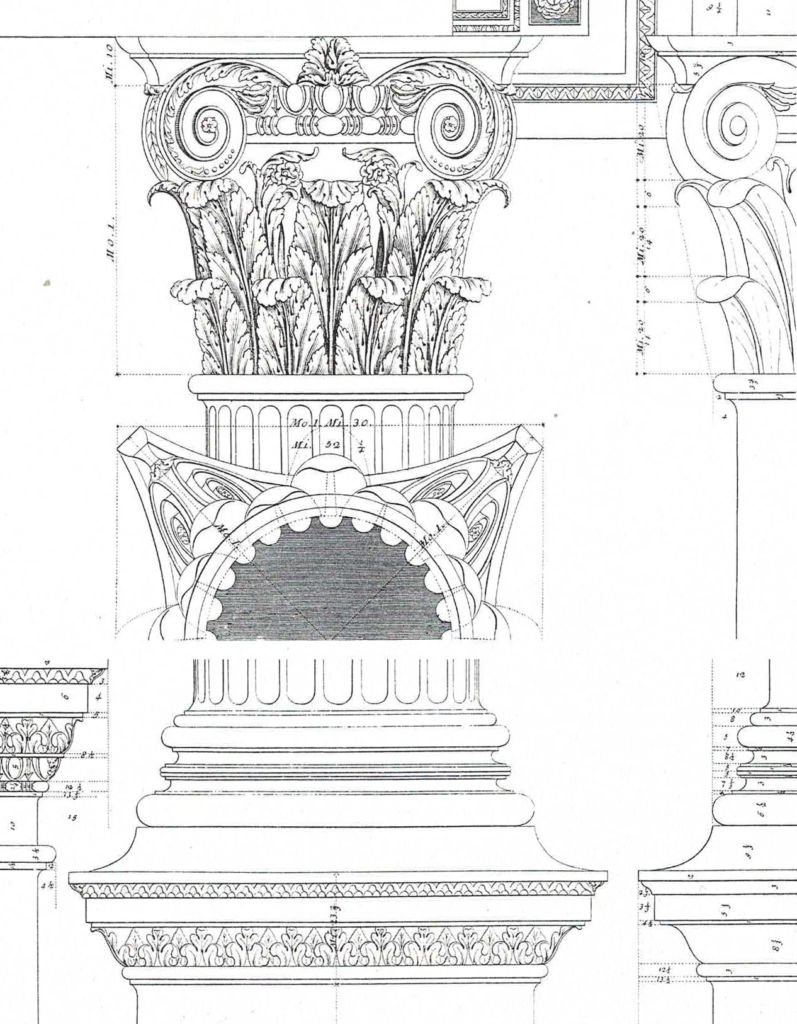 Columns are commonly round but can also be found with square or polygonal shaped shafts.
These shafts are normally finished at the floor level with a moulded base and at the top level with a capital.
Stone Column shafts are normally created through the use of separate segments or drums, but on occasion, they are formed of one piece of stone this would be called monolithic.
A colonnette is a small column that would be used as a decoration rather than a structural element, complete with base and capital, these were widely used during the Gothic architectural period, where they would be seen applied to windows and doors or even larger columns.
A capital that used without a column sitting below it is a corbel. Such designs being mainly used to provide support for roofs, vaults and arches.
Pilasters are flat additions, with base and capitals that are attached to walls to give the illusion of columns. They can be used with entablature or arches.
There are many variations on Columns and Capitals created through the passing architectural periods, whilst maintaining the original terms of the Orders but allowing for newer techniques, materials and fashions. The Gothic period created complex columns or detached shaft columns as well as the use of dying mouldings whereby arches can be finished to a column or wall without the use of a capital. The Renaissance revived the classical Order to columns and capitals, principles that were expanded upon during the more inventive times of the baroque and rococo periods.