Modelling
Clay Modelling is used to reproduce or create ornamental decorations and is considered an art form which dates back to pre-history. Whether modelling is executed in clay, plaster, plasticine or any other material, it's an essential element in decorative architecture.
Working from the original architectural element, photographs, drawings or simple measurements, we can use models to ensure a faithful reproduction of your design, whether it's a new concept or a reproduction of the original. From this sculptured model, we'll create a mould from which the final casts will be taken. And by combining hand modelling with moulded work we can introduce an element of individuality into any project – just as much or as little as you require.
We offer a full site survey, setting out and design service to ensure that all bespoke items are created to suit the scale and nature of actual site dimensions and period. Therefore, from the vaguest of client briefs we can create an absolute, detailed and scaled design to achieve the exact requirements of any project – both aesthetically and architecturally.
"The modeller first draws an outline of the design on a slab of clay, and then proceeds to build it up by hand. Taking small lumps of clay as required, a touch here, a pinch there, and the design gradually evolves under the skillful fingers of the modeller from a shapeless mass to a finished work of art" W. Verrall "The Modern Plasterer"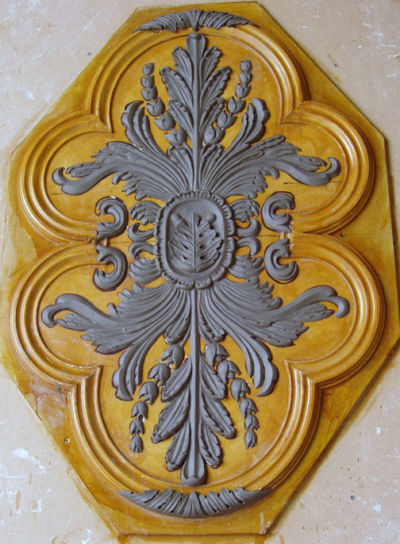 Private Client Bespoke Modelling
Further Private Client Modelling Examples